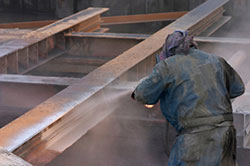 We at Laba Depan Welding Enterprise (LD) particularise in sandblasting, painting and coating an extensive range of metals and its substrates.
The painting and coating services offered by us not only come in with improved physical properties such as wear & tear and scratch proof, wet potential, exceptional adhesion but also with outdoor manifestation of components. We do all this in changeable degree of several parts and in extensive selection of patterns of parts as well.
We have an extensive variety of in-house quality control measures, which commences from the time of receiving the client's purchase order and goes until the completion of the manufacturing process. This also facilitates in producing superior quality products.
We also offer a wide range of on-site services when it comes to painting, industrial coatings and blasting.
Our in-house facility assists us in completing an extensive range of project modules and eventually, allows the on-time supply of products to the client and their customer.